Window Capture
Select the desired Window you want to capture. (With Aero on, this will only capture the window itself, and not any windows on top. With aero off, it will capture windows on top, this is a windows design limitation)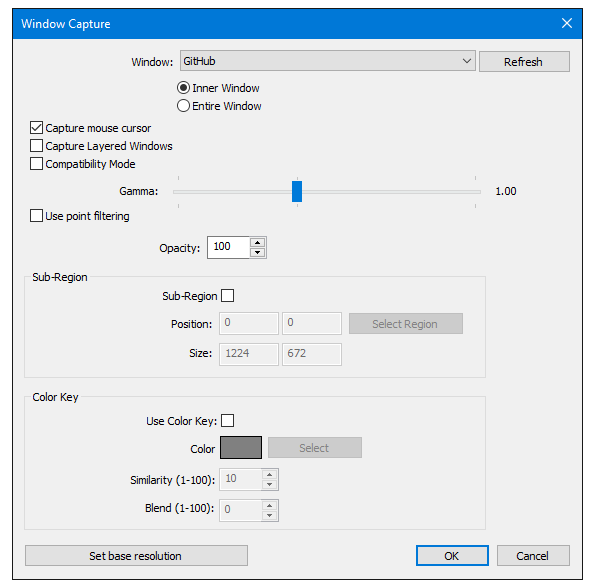 Settings
Capture mouse cursor
Deactivate this to hide the mouse cursor.
Capture Layered Windows
Activate the capture of overlapping windows.
Compatibility Mode
Captures to RAM before uploading to the scene. This mode is primarily as a last-resort option for multi-GPU laptops and systems where capturing has issues
Gamma
Change the Gamma of your capture.
Opacity
Change the visibility of your capture.
Use point filtering
Uses point filtering for image resizing.
Sub-Region
Activate the Sub-Region (crop) selection
Position
Set Position in Pixels.
Size
Set Size in Pixels.
Select Region
Select the Size of your screen region by resizing the white rectangle to your liking.
Color Key
Use Color Key
Activate the Color Keying.
Color
Select the Color to chroma out.
Similarity
How much the selected color is allowed to vary. A higher value, means it can vary more.
Blend
Specified how much to smooth out the edges chroma keyed color. A higher value means smoother edges.