General

In the general settings you can switch the Language and also add, rename or remove Profiles.
You can also activate the Notification Area Icon and the minimize to Notification Area option here.
The projector feature allows you to view a fullscreen-preview of your obs scene on a secondary monitor. By default the mouse cursor will be hidden when hovering over the projector, you can deactivate this behaviour with the "Enable Cursor over projector" checkbox.
The "show Log Window on OBS launch" checkbox lets you start OBS with an opened Log Window by default.
Profiles
The different profiles include your OBS settings, but not the Scenes and Sources. These are part of a SceneCollection.
To create a new profile, write the name you would like for it and then click Add to create it. It will use the settings of the previously selected profile as its defaults. Change all settings you like and close OBS to save your new profile. For additional profiles, do the same. Make sure to click Add before you begin changing settings or your old profile will be overwritten.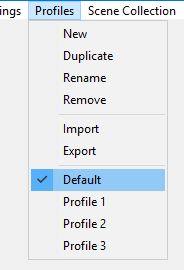 Using the profiles menu you can later on also switch through the different profiles, without having to go into the settings of OBS. Be aware, you cannot switch the profile while a stream, recording, buffer or preview is running.