Video Capture Device
Select your Web-Cam or Capture Card and change its settings.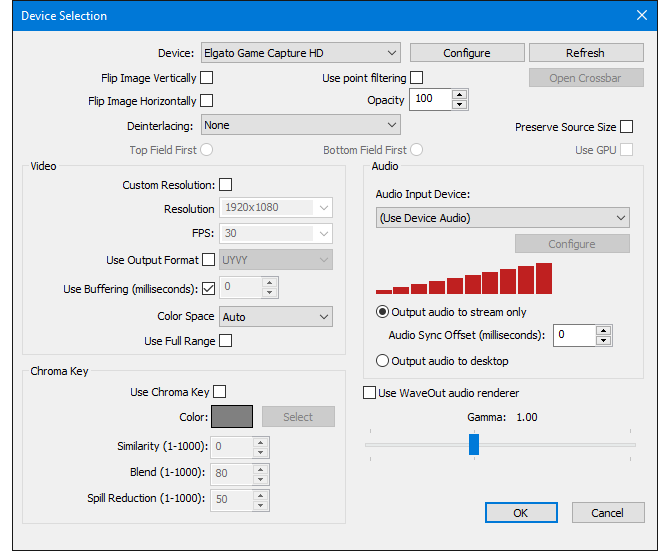 Settings
Device
Select your Video Capture Device to be used for capture
Configure : Open the configuration dialog of your device
Refresh : Refreshes the list of devices
Open Crossbar : Open the crossbar of your device (let's you select Input and Output Pins)
Flip Image Vertically/Horizontally
As described, flip the image as chosen. Remember, this is not rotating.
Use point filtering
Point filtering can be useful if you change your Input resolution on stream.
Opacity
Change the Opacity of your Video Capture Source
Video
Custom Resolution: Activate the following settings

Resolution : Set a custom resolution
FPS : Set a custom frame rate (often the Input Hz frequency)
Output Format : Color Format to be used for Input
Use Buffering (milliseconds) : Buffer the Input of your video capture device (useful for synchronising Video and Audio)
Audio
Audio Input Device: Lets you select the desired Device for Audio Input

No Audio : Deactivates this device
Output audio to stream only

Audio Time Offset (milliseconds): Offset the playback of your Audio device to synchronise it to your Video)

Output audio to desktop
Chroma Key
This feature lets you use a green-screen for example and remove the green parts of your webcam footage.
Use Chroma Key activates chroma keying. Select your desired color and choose the Similarity/Blend and Spill Reduction until you like the result.